Living in Booth Hall?
Here's a refresher of some need-to-know info about your halls before you return...
What do you need to bring?
There's a little reminder of what we provide and what we recommend you bring here.
Where can I do my laundry?
You will find card-operated machines and dryers just off the main reception area. Cards cost £2 and can be topped up online or at a machine.
Do I have a cleaner?
A cleaner will come to tidy the communal areas once a week (but be aware they will not clean if the surfaces are messy, so try and keep things clutter free!) and you're in charge of keeping your bedroom clean. Good luck, friend. You can do it. We believe in you.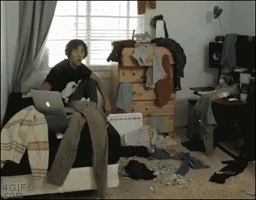 Where do I pick up my post?
Your mail and parcels will be delivered to your Hall Reception and letters to the Flat post boxes in your block.
How do I report maintenance issues?
Please report any maintenance issues to CSACheshirestudentliving@mmu.ac.uk. In an emergency, such as loss of all water or power, floods, gas leaks or persons trapped in lifts, please go directly to the accommodation reception or ring 0161 247 5747.
What's my new address?
Booth Hall, Beswick Drive, Crewe, CW1 5NP
Get your bearings in the first few weeks by finding your nearest...
Supermarket: Co-operative Food, CW1 5NP
Pub/bar: The Duke of Gloucester
Coffee fix: Head to Nantwich Road
Workout: Bannatynes (next door to your halls!)
Doctors: Hungerford Medical Centre (CW1 5HA)
Don't forget, you can get to know your new flatmates before you arrive by joining your Facebook group!